One of the goals I made for myself this year is to go from beginner to pro when it comes to painting furniture. OK well, maybe that's a little overly ambitious but if I ended up somewhere in the middle I would be a very happy girl!
The blogosphere is filled with endless amazing furniture transformations so it is easy to get caught up in having high expectations.  When your piece doesn't turn out like you had envisioned it can be truly disappointing and frustrating after all of the time and effort you put into it.
My experience with painting furniture so far has been with mixed results. I am learning that it takes practice and patience.  I also really need to stop skipping the important step of actually reading the instructions. There are a few pieces I have painted several times, with different types of paint and tried different colors until I finally got it right. I think I should invest in taking a class or two at some point but I can be pretty stubborn and prefer to figure things out on my own.
I plan to share lots of furniture painting projects in the coming months, the good and the bad. To start this furniture painting adventure I am sharing a  piece that surprisingly turned out better than expected. For me painting a chair is one thing but painting a larger piece of furniture is another. This was not a thrift store or dumpster find so I was feeling the pressure to not mess it up and was very nervous when I started.
Once I decided to go for it and paint the media console, I researched different types of paint that would be good for furniture and found one that looked perfect for this beginner. I chose Reclaim paint.  It was very easy to work with, it has a slight texture, is very durable and it does not show any brush or roller marks so it leaves a nice even finish.  After the paint dried for few days I applied the glaze and I am very happy with the results.  I used the off white color and antiquing glaze for this project.
I used one of my new favorite things in the world and can't believe it took me so long to find out about it, Rub 'n Buff, to spruce up the knobs and hinges. I couldn't believe I never even noticed that they didn't match until I painted the console.
Below are a few pics from our previous home.  The black console worked great in our last family room but was just too big to fit in the family room in our new home so it ended up upstairs in our bonus room.  We basically swapped the consoles after the move.
One thing that took some convincing with my hubby was swapping the TV's. The bigger one just didn't work on the smaller console so it is upstairs where it belongs with the larger console.
I am not sure how the next project will turn out, but with each one I try I am hopefully getting a little closer to my goal.
Linking up with: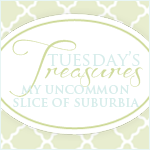 Featured On: